Elizabeth Pankratz
Humboldt-Universität zu Berlin
Sprach- und literaturwissenschaftliche Fakultät
Elizabeth Pankratz ist wissenschaftliche Mitarbeiterin im Projekt A04 "Situated Syntax". Ihr Interessenschwerpunkt ist das Zusammenspiel von Sprachgebrauch und Kognition, insbesondere was die Auswirkungen auf Morphologie, Syntax und pragmatische Schlussfolgerungen betrifft.
Projekte
A04 Situated syntax: Exploring and modeling syntactic register variation in German

Kontakt
Humboldt-Universität zu Berlin, Dorotheenstraße 24, 10117 Berlin
elizabeth.pankratz@hu-berlin.de
Website
https://orcid.org/0000-0001-8453-1105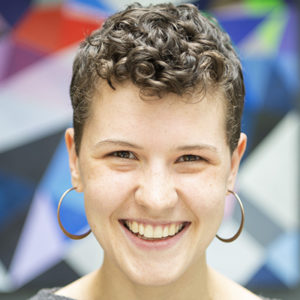 Publications & Presentations
Publications

Pescuma, Valentina Nicole; Serova, Dina; Lukassek, Julia; Sauermann, Antje; Schäfer, Roland; Adli, Aria; Bildhauer, Felix; Egg, Markus; Hülk, Kristina; Ito, Aine; Jannedy, Stefanie; Kordoni, Valia; Kühnast, Milena; Kutscher, Silvia; Lange, Robert; Lehmann, Nico; Liu, Mingya; Lütke, Beate; Maquate, Katja; Mooshammer, Christine; Mortezapour, Vahid; Müller, Stefan; Norde, Muriel; Pankratz, Elizabeth; Patarroyo, Angela Giovanna; Plesca, Ana-Maria; Ronderos, Camilo R.; Rotter, Stephanie; Sauerland, Uli; Schulte, Britta; Schüppenhauer, Gediminas; Sell, Bianca Maria; Solt, Stephanie; Terada, Megumi; Tsiapou, Dimitra; Verhoeven, Elisabeth; Weirich, Melanie; Wiese, Heike; Zaruba, Kathy; Zeige, Lars Erik; Lüdeling, Anke; Knoeferle, Pia; Schnelle, Gohar (2023) Situating language register across the ages, languages, modalities, and cultural aspects: Evidence from complementary methods In: Frontiers in Psychology [DOI] [ViVo]

In the present review paper by members of the collaborative research center 'Register: Language Users' Knowledge of SituationalFunctional Variation' (CRC 1412), we assess the pervasiveness of register phenomena across different time periods, languages, modalities, and cultures. We define 'register' as recurring variation in language use depending on the function of language and on the social situation. Informed by rich data, we aim to better understand and model the knowledge involved in situation- and function-based use of language register. In order to achieve this goal, we are using complementary methods and measures. In the review, we start by clarifying the concept of 'register', by reviewing the state of the art, and by setting out our methods and modeling goals. Against this background, we discuss three key challenges, two at the methodological level and one at the theoretical level: 1. To better uncover registers in text and spoken corpora, we propose changes to established analytical approaches. 2. To tease apart between-subject variability from the linguistic variability at issue (intra-individual situation based register variability), we use within-subject designs and the modeling of individuals' social, language, and educational background. 3. We highlight a gap in cognitive modeling, viz. modeling the mental representations of register (processing), and present our first attempts at filling this gap. We argue that the targeted use of multiple complementary methods and measures supports investigating the pervasiveness of register phenomena and yields comprehensive insights into the cross-methodological robustness of register-related language variability. These comprehensive insights in turn provide a solid foundation for associated cognitive modeling.